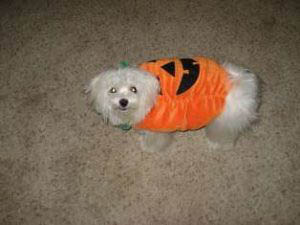 Hey Patrick and Family!
I just wanted to send a few pictures of my precious girl Bella. She is so sweet and very well behaved. She loves having friends over to play (even if they are like 5 times her size) she still likes to beat up on the big dogs!!! She has such a great personality.
Thanks again for such a sweet puppy. She is growing so fast and is now 8 months old!!!
She is so excited about Halloween, and just loves being a pumpkin. She also loves hanging out with her sisters and having a good game of tug-o-war…. but it sure makes her sleepy!!!!
Hope you enjoy the update on my sweet girl! I will send more pictures at a later date.
Jennifer P.
Lubbock, Texas